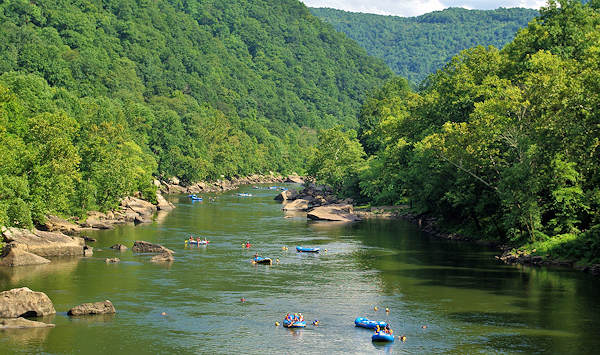 Go Whitewater Rafting on the New River and Gauley River. Here are some West Virginia Whitewater Outfitters to plan your river adventure!
ACE Adventure Resort is the adventure vacation destination featuring West Virginia's finest in outdoor activities. From some of the best high volume and technical whitewater rafting in the world, to rock climbing, mountain biking, zip lines and rope courses, ATV rides, mud obstacle course, horseback riding, kayak clinics.
Class VI – Mountain River has been providing premier white water rafting and adventure vacations for more than 35 years on the New River and Gauley River. Located On the Gorge, their adventure facility is a one-of-a-kind resort location on the rim of the 70,000 acre National Park lands of the New River Gorge. You'll enjoy a multitude of outdoor activities including whitewater rafting, kayaking clinics, hiking & biking trails, horseback riding, rock climbing, ATV tours and NEW Canopy Tour with ziplines!
Since 1980, Rivermen, a West Virginia family-owned company, has organized and delivered fun, friendly and safe WV adventures. Rivermen's On the Gorge Adventure Resort is your "one stop shopping" solution for the ultimate West Virginia adventure getaway! Learn to flyfish or rock climb in WV, hop on a mountain bike or combine a rafting trip on the New River or Gauley River rafting with a day of WV horseback riding or hiking and more!
North American River Runners (NARR) specializes in running the two best rivers for white water rafting in West Virginia – the New River and Gauley River. We offer a wide range of rafting trips and complete white water rafting packages to satisfy groups with children as young as five, or aggressive rafters seeking a true Class V+ white water rafting experience. Established in 1975 and one of the largest outfitters in West Virginia, NARR combines fun, hospitality and value
Zip Line Canopy Tours at New River Gorge
TreeTops Canopy Tour is a world class full canopy tour program designed by international leader Bonsai Designs. The course is located at our newly expanded adventure resort: home to Class VI-Mountain River and Rivermen. This half day adventure includes 10 Ziplines, 5 Sky Bridges, 1 Rappel, and 3 Short Hikes. You'll spend 3 1/2 hours in the old growth hemlock and hardwoods forest of pristine Mill Creek Canyon, immediately adjacent to the awe-inspiring New River Gorge.
Ace Resort Canopy Tours will teach you to zip line, West Virginia style. The moment you leap from the cliff-side platform to begin your first descent, your body fills with adrenaline creating that wonderful bursting-with-giggles-you-can't-contain-yourself high. Your canopy tour features a network of zip lines spanning over a mile of cliff-line along the New River Gorge.
Places to Stay to Play
All of this is near our West Virginia cabin rentals near the New River Gorge: See Star Song 1 Cottage | See Star Song 2 Cottage