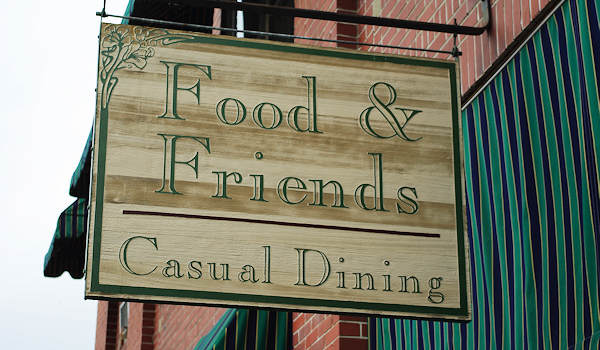 The New River Gorge has a variety of restaurants near our cabins. From gourmet meals to simple fair, from on-the-go eats to slow roasted wild game barbecue, you can find plenty of variety. Here are our favorite restaurants in our area of West Virginia:
Meadow Bridge
The Bridge Café: Just 3 miles away is a charming, friendly café with great specialty sandwiches, salads, soups and daily lunch special. 32 Main Street, Meadow Bridge. 304-484-7600
Lewisburg
Food and Friends: Serving American cuisine in downtown Lewisburg. Specializing in steaks and seafood. 213 W Washington, Lewisburg 304-645-4548
General Lewis Inn: Originally the John Withrow Estate (1834), the historic inn specials include country ham, chicken, steaks and mountain trout. Handmade pecan pie and fruit cobblers. Featured on The Food Network's "Best of…" series. 301 E Washington, Lewisburg. 304-645-2600
Stardust Café: Enjoy quality ingredients, including European butter, extra virgin olive oil, fresh local vegetables, local artisan bread, lovely pastries, organic local beef, fair-trade coffees, wonderful wines from around the world, and micro-brewed beer. They use locally grown and harvested and organic products when possible. 102 E Washington, Lewisburg. 304-647-3663
Stella's Tea House: Stella's offers the charm of a restored 1795 building with the best in American cuisine. Their farm-to-table menus change periodically, based on what's fresh, in keeping with the cycle of seasonal harvest. E Washington St, Lewisburg, WV 304-520-4937
The Bakery: Serves bagels, pastries, wedding cakes, pizza, and other delicious dishes. 102 N. Court St, Lewisburg. 304-645-1106
The Livery Tavern: The Livery Tavern looks like a mid-1800's tavern with an open beamed ceiling and a generous use of natural materials and earth tones. The Livery has a full bar, privacy booth seating, outdoor patio seating and an extensive wine and port list. The menu includes grilled venison, quail, lamb and local beef cuts like two inch bone-in rib eyes. 304-645-9836
Beckley
The Char: Beckley's finest with an excellent menu in an updated and inviting setting. Come relax and enjoy the magnificent view of the pond while enjoying the best steaks, seafood and chops cooked to order. 304-253-1760
King Tut Drive-In: Voted as a "must see" in West Virginia, this drive-in restaurant has been a Beckley favorite since the 1940s. The large menu consists of a combination of sandwich items, pizzas, and full dinners, all of which can be enjoyed on our premises in your automobile, or can be taken home. Many menu items originate from recipes handed down within their family. They make their breads, pies, and homemade buns. The award winning pork barbeque, twice-baked potatoes and stone baked pizza are favorites. Don't forget a milkshake! 304-252-6353
Pasquale Mira: For over 50 years, Pasquale's has been delighting local with the finest Italian cuisine around. They have a casual dining room, an intimate formal dining room, a sunroom with televisions and an outdoor patio. More than fifty menu items including spaghetti, lasagna, fettuccine, steaks, seafood, chicken, veal, calamari, pizza, and much more. 224 Harper Park Drive, Beckley, 304-255-5253.
Tamarack: A Taste of West Virginia food court, managed by The Greenbrier, features breakfast, grille and deli menu items to entice every appetite. Daily specials include Tamarack's Tuna Melt, Chicken Pot Pie, West Virginia Rainbow Trout and Braised Beef Sirloin with Sweet Onion Jus. West Virginia-made jams and jellies, salad dressings and mustards, and locally grown trout and catfish are incorporated into daily menus. You also won't want to miss Tamarack's Country Breakfast. One Tamarack Park, Beckley. 304-256-6843
Fayetteville
Cathedral Café: Cool little hippie joint with a loyal following of locals as well. Best coffee in town with homemade desserts, soups, pastries and more. 134 S Court St, Fayetteville. 304-574-0202
Gumbo's Cajun Restaurant: Serves Cajun, Creole and WV country cuisine. All seafood is domestic and fresh. Lunch and dinner includes a great selection of unique burgers, po'boys, main-dish salads, steampots, boils, alligator and crawfish. 103 E Court, Fayetteville. 304-574-4704
DiOGi's Latin Grill and Cantina: Great Latin Food with fish tacos, carnitas, chili and bread pudding. Nice beer and wine selection. 103 Keller Ave, 304-574-3647
Pies & Pints Pizzeria: This hip spot serves handcrafted pizzas, sandwiches, salads, appetizers and desserts, with an extensive selection of beer and wine. 219 W Maple Ave, 304-574-2200
Sedona Cantina and Tapas: Everything is made in-house from the restaurant's own recipes at Sedona Cantina and Tapas. The unique menu includes items like the "Cajun Fire Styx" and ethnic food from Japanese to Greek delicacies. 106 E Maple. 304-574-3411
Smokey's on the Gorge: Take in the spectacular views of the New River Gorge from the outside deck. They are open April through November with a gourmet dinner buffet with a a fantastic selection of grilled meats, veggies, sauces and more. 219 Ames Heights Rd, Lansing. 888-650-1933
White Sulphur Springs
Greenbrier: The famous Greenbrier Resort has 13 unique restaurants, cafés and lounges each demonstrating superlative standards in the culinary arts. Regardless of venue or menu, every meal is truly exquisite. The iconic Main Dining Room is the epitome of Greenbrier cuisine in an elegant setting; a timeless classic featuring southern and French-inspired dishes. Draper's serves Greenbrier traditions and providing a casual and convenient setting located next to the Casino Club. Enjoy fresh sushi and Pacific Rim specialties at In-Fusion and authentic, Italian fare at The Forum. Wagyu beef, fresh seafood, aged prime cuts and tableside Bananas Foster are the featured stars of the premier steakhouse, Prime 44 West. Other options include Sam Snead's at the Golf Club, Slammin' Sammy's and Café Carleton. They take farm-to-table quality to the next level with The Greenbrier Farm that raises nearly all of the produce for The Greenbrier Restaurant Collection in season including 60+ varieties of fruits and vegetables. 300 W Main St, White Sulphur Springs. 800-453-4858
Mason Jar: The Greenbrier Valley's answer to homestyle cuisine is cooked up by some of the best chefs this side of the Mississippi! Enjoy hand-cut steaks, hickory-smoked barbeque, buttermilk southern-fried chicken, burgers, fried-green tomatoes, homemade salads and soups that are made fresh daily. Their infamous pies and cakes are made from scratch. 62 E. Main Street, White Sulphur Springs. 304-536-5001
Route 60 American Grill: Deli items, soups, sandwiches, burgers and salads. Take-out available for picnics. Located on the Midland Trail.12 W Main St, White Sulphur Springs. 304-536-4666
Hinton
The Market at Courthouse Square: A nice stop for lunch with pizza, paninis, soup, sandwiches, salads, gelato, vino and beer. 200 Ballengee Street 304-466-6626