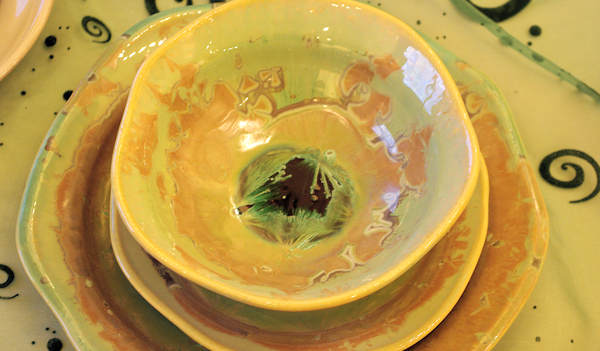 Within walking distance from Star Song Cabin is Lockbridge Pottery, home to the very talented potter, Jeff Diehl. Their studio, gallery and home are in the old schoolhouse. They don't have a sign or "business hours." But you can often catch them in the studio working with four kilns. Jeff and wife Donna will be glad to show you around.
In his more than 25-year career as a full-time potter, Jeff has developed both a thriving studio and a lifestyle as beautiful, unique, and functional as his pottery. In 1980, Jeff and Donna established Lockbridge Pottery by turning the abandoned country schoolhouse into a ceramic studio and home. Neighbors who had attended the school as children helped the Diehls remodel the beloved building.
The family helped Jeff construct one of the most unique features of the property is the traditional, German salt kiln. Using rocks salvaged from dilapidated local buildings, the Diehls constructed a round outbuilding to house the kiln. The practice of salt firing originated in Northern Germany, where potters used driftwood for wood-fueled firing. He is among the few potters in the United States trained in the art of salt firing.
His ceramics appear in collections worldwide at such prestigious establishments as the Smithsonian's Renwick Gallery in Washington, D.C. He has won eight best-of-show awards at the Appalachian Arts and Crafts Show in Beckley, a merit award at the Mountain State Arts and Crafts Fair, a craft fellowship from the West Virginia Commission on the Arts, and a professional development grant from the West Virginia Division of Culture and History.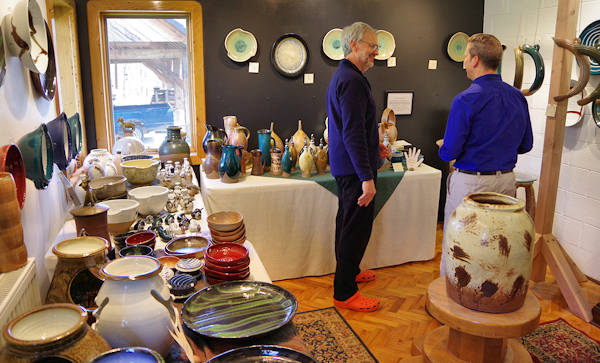 Now, Diehl sells his work almost exclusively through home-studio shows and commissions. The Diehls host three studio shows per year that are a festive combination of games, music, pottery lessons, food, and, of course, an opportunity to purchase Diehl's work. Diehl encourages his visitors to try making a pot themselves. He has developed special clay that allows for immediate glazing and firing in a fast-firing Raku kiln. Guests can take home their own 'masterpieces' the same day. For more go to Jeff's website at LockbridgePottery.com.
For more things to do, see our Guide to the New River Gorge area.