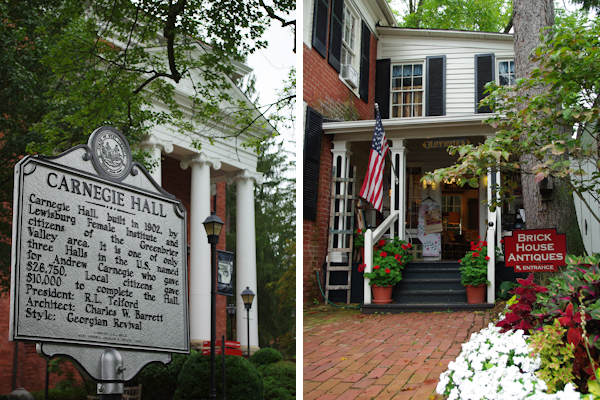 Star Song cabin vacation rentals are located near Lewisburg, West Virginia, in Greenbrier County. Downtown Lewisburg is a delight to explore. Harmony Ridge is a 5,000 square foot gallery with fine jewelry, whimsical garden art, wall sculpture, pottery and contemporary furniture. Edith's Health and Specialty store has been a must-stop for gourmet and health foods for many years. Brick House Antiques features regional treasures in an 1815 two-story building. Open Book has new and used books, specializing in West Virginia-related authors and books. Serenity Now Outfitters has outdoor clothing and supplies. And these are just a few of our favorite stops!
In 1978, a 236-acre area in the heart of Lewisburg was designated a National Register Historic District. Historic Downtown Lewisburg has been honored as one of America's Dozen Distinctive Destinations by The National Trust for Historic Preservation.
Other attractions in the area include:
Carnegie Hall is a performing arts center in downtown Lewisburg with live performances and rotating exhibits.
Greenbrier Valley Theatre is West Virginia's official year-round professional theatre with theatrical productions, music concerts and more.
Greenbrier River Trail is a 78-mile trail about the river for hiking, biking, cross-country skiing and horseback riding.
Lost World Caverns offers a self-guided tour to see the many different formations that make up a 1/2 mile loop. No matter what the temperature on the outside, the cave always remains a constant 52 degrees. They also offer a guided wild cave excursion for the more adventurous.
Organ Cave is a National Historic Landmark and the second longest cave on the East Coast. Take a guided tour or extended exploring expeditions, zip line, 28-foot rappelling and climbing tower and more.
Greenbrier County is also home to the world-famous Greenbrier Resort. The Greenbrier is an award-winning resort located in White Sulphur Springs, West Virginia, located 45 minutes from our cabin near Lewisburg. As a National Historic landmark, The Greenbrier Resort's classic architecture, exquisite interior design and carefully sculpted landscape is amazing to see. Day visitors can see inside the grand hotel, stroll through shops and beautiful grounds, as distinguished guests have from around the world since 1778. The declassified Bunker at The Greenbrier is a must-see experience that takes you behind the scenes and walks you through a fascinating period in the resort's history. Carved deep into the mountainside beneath the hotel is an emergency Cold War fallout shelter. Once a top secret U.S. government relocation facility for Congress, The Greenbrier Bunker is now open to anyone interested in reliving a legendary piece of The Greenbrier history. Bunker tours provide a unique and in-depth look behind the hidden doors. Visit the former U.S. Government Relocation Facility, commonly known as the Bunker. For reservations, call the Bunker Office 304-536-7810.
For more things to do, see our Guide to the New River Gorge area.
Places to Stay to Play
All of this is near our West Virginia cabin rentals near Lewisburg and Greenbrier: See Star Song 1 Cottage | See Star Song 2 Cottage