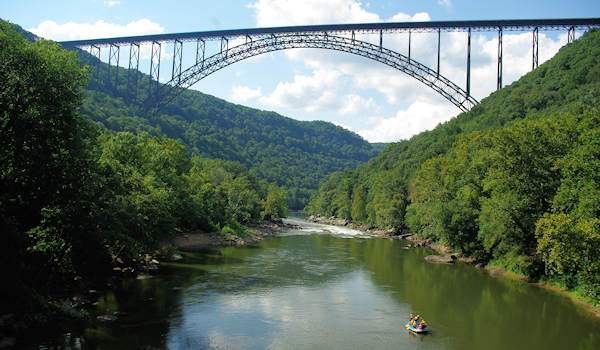 Since our vacation cabin rental is located on the New River Gorge National Park Scenic Loop Tour, you can easily find all the great attractions of southern West Virginia. While we are located in the beautiful West Virginia countryside, we are in the perfect location to explore Beckley, Fayetteville and Lewisburg. Here are our favorite things to do! See the famous New River Gorge Bridge (read more) and enjoy some of best whitewater rafting (read more) in the eastern United States.
While there many great hiking trails, you can't top the views from the Endless Wall Trail (read more).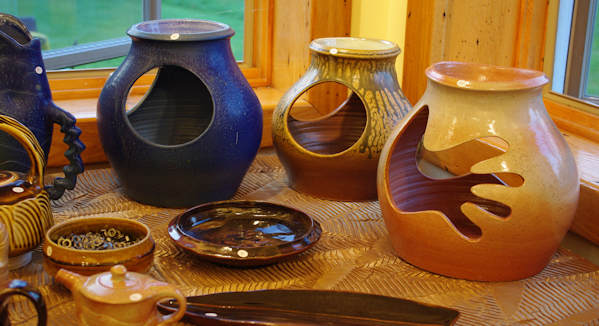 Within walking distance of the cabin is potter Jeff Diehl at Lockbridge Pottery. Read more about him.
See our favorite nearby Restaurants in the New River Gorge area.
Tamarack (read more) has an amazing selection of art created in West Virginia. It's a shoppers' paradise. Watch artists work and have lunch in their great cafe.
The charming, historic downtown Lewisburg (read more) has great shops, galleries, antique stores and restaurants. It's just 32 miles from our cabins.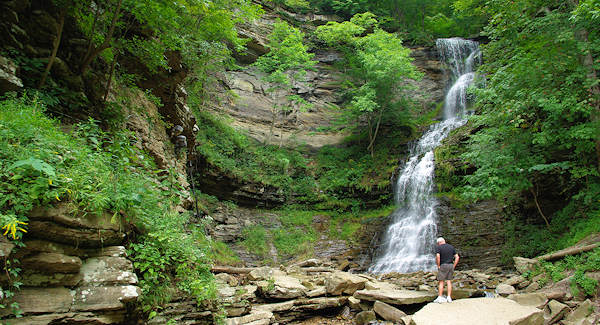 Cathedral Falls, two miles from the town of Gauley Bridge, drops more than 100 feet over a series of overhanging ledges to form one of the most spectacular waterfalls in West Virginia. It's located along U.S. 60, the Midland Trail Scenic Highway. Cathedral Falls have been a popular scenic landmark since prehistoric Native Americans entered the region. From Beckley, take US-19 north, across the New River Bridge, to US-60 (about 26 miles; 28 if from I-77). Turn left onto US-60 and follow 60 west to Gauley Bridge.
Winterplace Ski Resort is only 28 miles from our cabins! It's conveniently located off I-77, so it's easy to reach. They have 90 acres of skiable terrain for varying ability levels, nine lifts, 27 trails, night skiing and a snowtubing park. They are in Ghent on Raleigh County's Flat Top Mountain, the southernmost ski resort in West Virginia
Our cabins are just 20 miles from the University of Charleston in Beckley. UC-Beckley offers a wide variety of programs in scenic environment. We welcome friends, alumni and parents of current students.
The Sandstone Visitor Center is 12 miles from the cabin. It's a great place to get the latest info, see a video and tour interactive exhibits and touch-screen computers to learn more about the New River Gorge National River.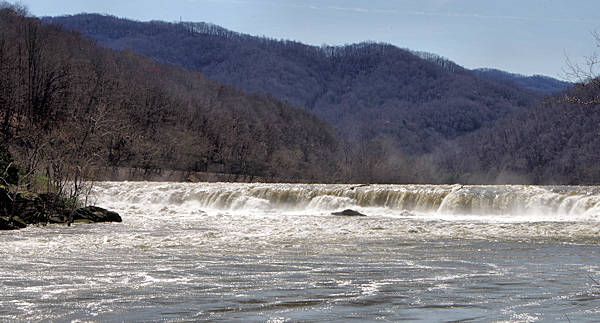 Sandstone Falls is about 22 miles south of the Sandstone Visitor Center. Route 20 climbs Chestnut Mountain to an overlook of the falls (only a few miles from the center). But you need to continue down river to Historic Hinton so you can cross the New River and drive back up the river on the other side to reach the boardwalk that leads to an island at the waterfall with observation decks.
Our cabins are 23 miles from historic Hinton, a railroad village on the New River with a National Historic District with 200 buildings, most of which represent American architecture between the 1880s and 1920s. The Summers County Courthouse, completed in 1898, is the district's centerpiece. Other noteworthy structures include the Hotel McCreery, built in 1907, and the C&O Railway passenger station, home to the West Virginia State Historic Preservation Office. There are great stores downtown to browse, including the Otter & Oak General Store and gallery. On Labor Day, they have the Festival of the Rivers, a free two day music festival featuring Grassroots Appalachian music in celebration of our rivers and railroad culture.
Bluestone State Park is near Hinton, with 2,100 acres of rugged, heavily forested, mountainous terrain, providing a wide variety of water-oriented activities. Bluestone Lake, the state's third largest body of water. Pipestem Resort State Park with its myriad of recreational facilities is only 10 miles to the south of Bluestone. Hunting and fishing opportunities abound at 17,632 acre Bluestone Wildlife Management Area adjacent to the park and nearby Camp Creek State Forest.
Babcock State Park offers its guests 4,127 acres of serene, yet rugged beauty, a fast flowing trout stream in a boulder-strewn canyon and mountainous vistas to be viewed from several scenic overlooks. All of this variety is located adjacent to the New River Gorge National River. The Glade Creek Grist Mill is a fully operable mill built as a re-creation of one which once ground grain on Glade Creek.
Nearby Fayetteville, WV (read more), has a historic downtown with the Fayette Theatre.
Visit the famous Greenbrier Resort Hotel in White Sulphur Springs for fine dining, spa, shops and strolling the beautiful grounds.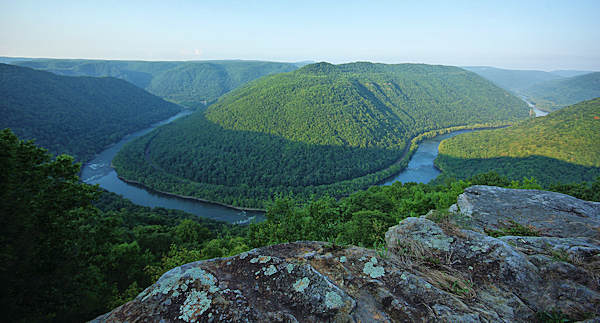 The most dramatic of the New River Gorge is from Grandview, the highest area of the park. It's an easy five mile drive from I-64. Grandview offers hiking trails, picnicking, and outdoor summer performances by Theatre West Virginia.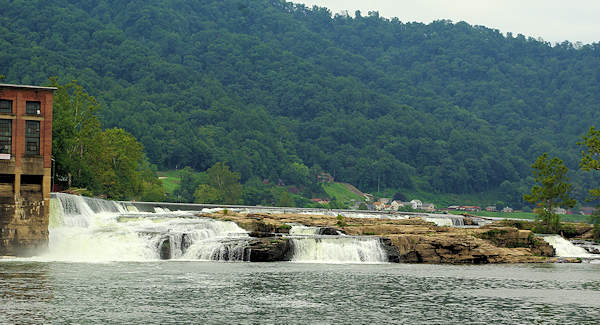 Near Cathedral Falls is Kanawha Falls. Two miles west of Gauley Bridge is a bridge crossing the Kanawha River. After you cross it turn left and follow Kanawha Road to the Kanawha Falls Park, specially constructed for folks to enjoy the waterfalls and the Great Kanawha River.
Meadow Bridge Drive-In is one of the few drive-in theaters still operating in West Virginia. It's just three miles from Star Song on Route 20, so it makes a great date night! It's open May through September on weekends with double features of current running movies. Audio for the movies is provided via a FM radio signal, as well as traditional speakers. Meadow Bridge Drive-In was built in 1953 and is West Virginia's smallest, with a capacity for 180 cars. For the current films, call 304-484-7878
See a Coal Mine! The Exhibition Coal Mine is the largest and most popular coal heritage destination in the region. After years of planning, the Exhibition Coal Mine has recently completed an extensive renovation that includes a newly opened 14,000 sq. foot, Rahall Company Store, visitor center, coal museum, fudgery and gift shop. A visit will begin here with the purchase of a ticket and a visit to the extensive collection of mining artifacts and tools, geological specimens, photographs, and other features of early life among the coal towns of southern West Virginia. The main attraction is an actual tour that takes visitors below ground, under the supervision of an experienced veteran coal miner. Traveling 1500 feet beneath the hillsides of New River Park, visitors are carried along track, riding authentic "man cars" from the mine entrance, to old working areas of the coal mine and back. Stops throughout the tour explore the history of low-seam coal mining from the hand-loading days into the era of modern mechanization. April 1 – November 1. Daily 10:00 am – 6:00 pm. Bring a jacket – the mine is always 50 degrees!
Places to Stay to Play
All of this is near our West Virginia cabin rentals near the New River Gorge: See Star Song 1 Cottage | See Star Song 2 Cottage